Zodiac Shifters
A collection of books with an astrological spin on love. From Aries to Virgo… discover all-new tales of paranormal romance and urban fantasy.
Zodiac Shifters features New York Times, USA Today, and other bestselling authors. Each month expect new releases based upon the twelve astrology signs.
Aquarius- logical, curious, rebellious
Bound by Air by C.D. Gorri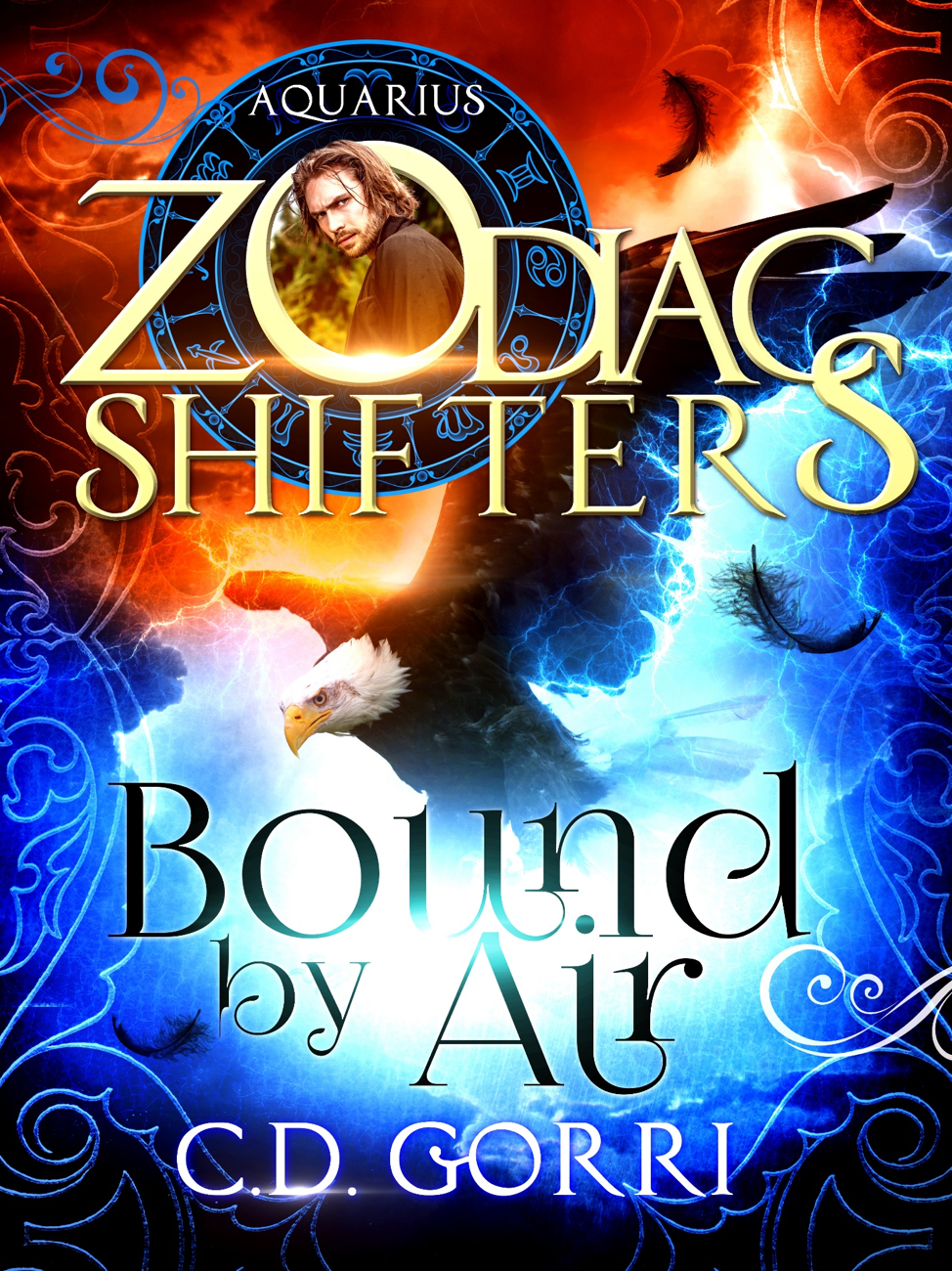 Welcome to the Wardens of Terra, an elite group of Zodiac Shifters destined to save humankind!
The Hounds of God have been disbanded by the Catholic Church, leaving a terrible void in the fight to save humankind. As a result, a much older organization returns to power and takes up the reins to fight to save the Earth from the evil that stalks it.
They are the Wardens of Terra, an elite force of Zodiac Shifters each carrying the power of their sign to aid them in the never-ending battle against the forces of darkness.
Alone they are fierce warriors. Once they've found their true mates, they become an unstoppable force. These are there stories:
Troy Waman is a Thunderbird Shifter, bound to the sign Aquarius, and a Warden of Terra. He is sent to upstate New York to investigate a disturbance in the balance of magic and nature. His job is to decipher whether the sudden string of winter storms is natural or the work of darker forces in the area.
Andrea Kristos' estranged great-aunt recently passed away, leaving her a house in Shadowland, New York. The novice Romani caster moves into the ancient house hoping to learn more about the parents who left her long ago. During her search, she discovers that some things are better left undisturbed.
Just when things couldn't get any worse, a huge, devastatingly handsome stranger shows up at Andrea's door in the middle of the night and puts her in handcuffs!
How will she get him to believe that she is innocent?
Release date: Jan. 29th 2019
About the Author
I'm C.D. Gorri, Paranormal Fiction Author and Creator of the Grazi Kelly Universe. I am proud to be a Smashwords USA Today Happy Ever After Hot List Indie Author!
I've always been an avid reader, and I have a profound love for books and literature. When I'm not writing or taking care of my family I can usually be found with a book or a tablet in my hand. I live in my home state of New Jersey with my husband, our children, and our dogs, Dash and Chewie.
I'm a busy mom of three and finding time for leisurely reading was never easy, so I write stories that are fast-paced, yet detailed with satisfying conclusions. If I thought making time to read was difficult, I was in for a huge surprise when I started writing, but now that I started, I can't picture myself doing anything else! I love writing powerful women and strong heroes who face relatable problems in supernatural settings! I plan on increasing the GK Universe with each and every story I publish. You can follow me on social media to keep up to date on all my new releases and events!
Want to know how it all began? Enter the Grazi Kelly Universe with Wolf Moon: A Grazi Kelly Novel #1 or how about a little PNR with the Macconwood Pack? Pick up Charley's Christmas Wolf for $0.99 today! I have series for for young adult and young at heart audiences who enjoy paranormal fiction, and I also have paranormal romance books available now! If you like sassy heroines and sexy heroes, then you might want to try my PNR books! Thanks for dropping by and happy reading!
Keep up with all the latest Zodiac Shifters news here!