Zodiac Shifters
A collection of books with an astrological spin on love. From Aries to Virgo… discover all-new tales of paranormal romance and urban fantasy.
Zodiac Shifters features New York Times, USA Today, and other bestselling authors. Each month expect new releases based upon the twelve astrology signs.
Libra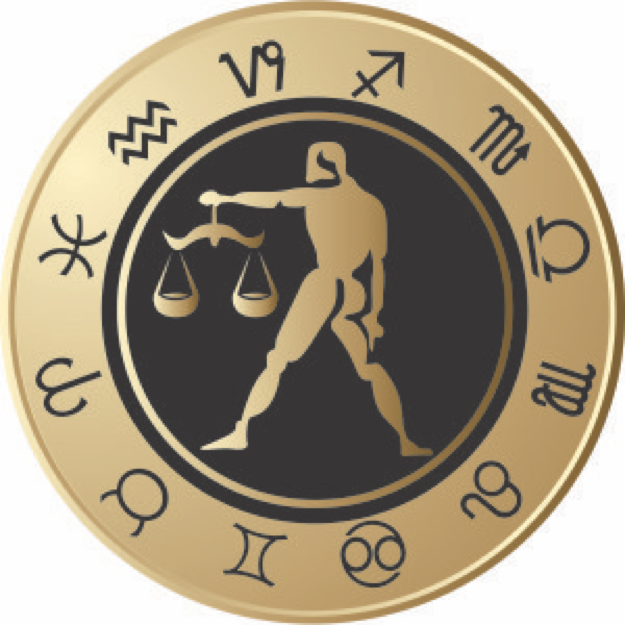 Passionate Yearning by Solease M. Barner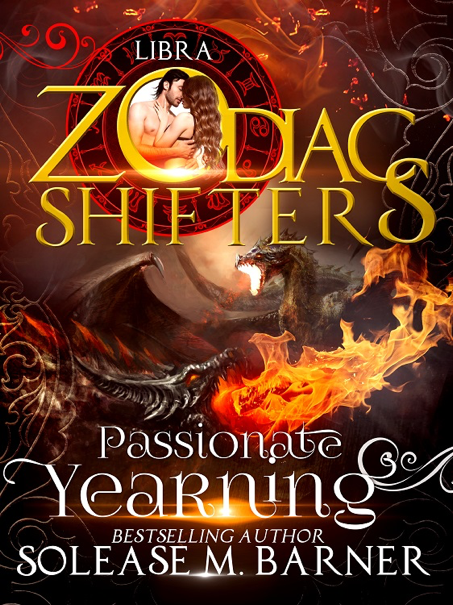 Jonathan Justice is handsome, fair, truthful and the Keeper of the law among supernaturals. When he sees a wolf attacking a human he jumps into action, but soon discovers this assault is bigger than he thought, he can handle anything, except the yearning for Raina Peters
Raina Peters is a successful doctor who cares deeply for those in her care. Little did she know the night a sexy guy wearing a long trench coat who came walking into the hospital would change her life forever. It's not long before Raina finds herself twisted in Jonathan's world and in order for her to stay alive she has to believe in the supernatural and take Jonathan's help, the question is will she?
Release date: Oct. 15th 2017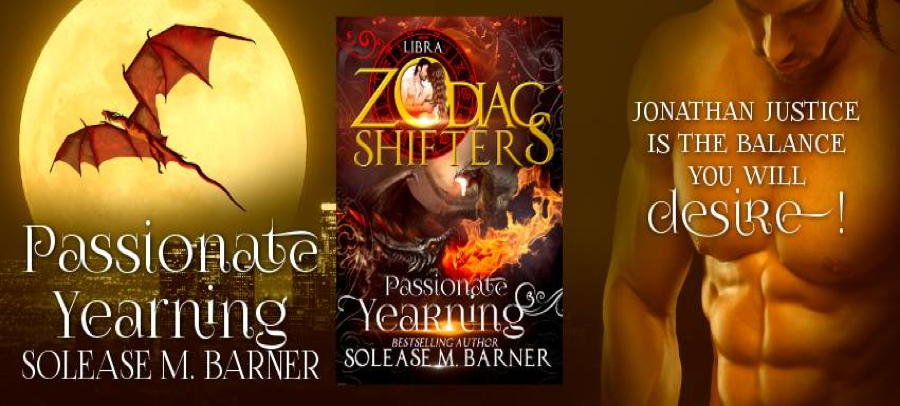 Excerpt – Spicy
He sits down on the floor beside me and places my feet in his lap. He looks at me and I'm sure it's desire I see in his eyes. As he's rubbing my feet he looks me in the eyes, and for some reason I become bashful and turn my head.
"Raina, I find that your unique and I like that about you and I think you like me, but me being a dragon is holding you back."
"I thank you for the compliment and with you being a dragon and I am human, what happens if you leave or…"
As I'm speaking Jonathan raises his body and leans over me barely touching my lips.
"What if you allow me to please you and we forget about the human dragon thing?"
Raising my hand to his face and caressing him, he turns into my hand and kisses it. My breathing has picked up and I want this with him even if it doesn't work out, my body wants to be with him.
I lean up and kiss him and a growl comes from deep within him and it's all animal and I like it.
He starts kissing me and leans down on top of my body as I relax on the lounge. He continues to kiss me passionately, undoing my robe using his hands to squeeze my breasts. I want him so badly. He picks me up with one hand and I wrap my legs around his waist as he walks us over to a wider, longer lounge in front of the fire place. He places me on the soft cushions kissing me and letting his hands explore my body. It feels amazing to have him touch me everywhere. He leans down and starts sucking on my breasts, licking and nipping me causing me to moan loudly in pleasure.
He stands and undresses and he's completely naked like me. He starts kissing my neck, breasts, stomach until he reaches my clit. He licks it slow, swirling his tongue around it skillfully. I scream and pull his hair needing him inside of me, but he doesn't budge to my demand.
His tongue moves further down and he pushes it inside of me, my eyes roll back into my head and I can't even scream, that's how good he's making me feel.
"Raina!" He whispers.
My body responds to him at will, I've never been this hot for another man.
"Jonathan please, I need you inside of me." I beg.
About the Author
Best Selling Author Solease lives in a quiet area, which she adores. She loves to spend time with her family especially her husband and daughter. She's been called the social butterfly by many friends. She's a huge movie buff, and loves to read books. She writes poetry on a daily basis, as a way to release stress. She also believes reading a book on the beach is a slice of heaven! Solease is the author of "Secrets of the Ghosts – The Sleeper", "Secrets of the Ghosts – AWAKENS", and "The Draglen Brothers Series – DRAKEN" , Showken BK2 The Draglen Brothers Series, Layern BK3-The Draglen Brothers Series, GEMI BK4-The Draglen Brothers Series , Domlen's Way BK4.5 -The Draglen Brothers Series, Warton BK5 – The Draglen Brothers Series and A Draglen's Wedding BK5.5- The Draglen Brothers Series.  Domlen BK6 – The Draglen Brother Series, Passionate Roar- A Zodiac Shifter Romance –Leo, Devious –The Fidelity World, and Passionate Yearning –A Zodiac Shifter Romance –Libra. She also will be releasing a new series with wolf-shifters coming soon!
Keep up with all the latest Zodiac Shifters news here!