Zodiac Shifters
A collection of books with an astrological spin on love. From Aries to Virgo… discover all-new tales of paranormal romance and urban fantasy.
Zodiac Shifters features New York Times, USA Today, and other bestselling authors. Each month expect new releases based upon the twelve astrology signs.
VIRGO – Analytical, Shy, Kind
The Truth in Love by K.C. Stewart
Bear shifter, Emilie Williams is a Virgo through and through. Not only is she reliable, intelligent, and modest, but she's also overly meticulous, cautious, and cranky at times–all qualities that tend to get her in trouble. After relocating to keep her identity a secret, she never expects to fall for a rugged, gorgeous wolf, who happens to have a delicious bite.
Carter Bennett has never met anyone like her. As a cop, his job is to keep the peace, but all he wants is a piece of Emilie. And when Emilie's past slaps him in the face, Carter knows it's time to walk away. But walking away from the one woman who sets him on fire is harder than he ever imagined. Now, it's up to him to break down the walls Emilie builds around herself–even if it's the last thing he ever does. However, he just might need a sledgehammer to do it.
Release Date August 29, 2017
Excerpt – Spicy
"It's beautiful, isn't it?" she said looking up at the full moon. She looked calmed by it. Like she was looking at an old friend. Most of the people in his pack felt some connection to the moon. He knew without looking when the moon was new or full, it was a tingle under his skin. But when Emilie looked up, it was more calculating, she was studying the night sky, not just appreciating it.
"Yes, you are." He had his eye on the only beautiful thing he could see. The one in his arms.
She gave him one of those smiles he loved so much. The one where her eyes crinkled and the tips of her lips tilted up. She'd given him a side eye but the pleasure of the compliment outweighed her inability to respond to it.
"Shouldn't you be with your pack tonight, howling at it?" Her fingers ran over his arm. So light it almost tickled. The hair on his neck stood on end as she made senseless patterns.
"Yes I should, Miss Sarcasm, but Owen made it optional. He wasn't feeling in the running mood because of Lee."
"So you are fighting the urge to shift?"
"I'm not fighting anything except kissing you again," he said honestly.
There was that smile again. She surprised him by turning her head and capturing his lips in a kiss. When her tongue ran over his bottom lip he drew her in closer.
"You don't have to fight it," she said against his lips. "Lord knows I'm not, at least not anymore. I want you to kiss me, Carter. Anytime. All the time."
He obliged because how could he not? Her words were so sweet but her tone was full of need. Carter wanted nothing more than to satisfy those needs.
"So what does it mean?" he asked when she settled back against him and looked back at the sky with a soft and content sigh. "The moon that is."
"Why do you think I would know?"
"Because I've seen you sitting out here staring at it. You also have a moon phase calendar on your fridge and you left your birth chart on the porch last week. I don't know what a birth chart is but I'm assuming it's related."
"Putting those cop skills to good work I see."
"Sassy," he said nuzzling into her neck.
"I am into this stuff as you so eloquently put it."
"So what's it mean?"
"Fulfillment." The husky way she said it made him think of certain ways he'd like to fulfill her. "Momentum. Lunar energy is at its peak right now."
"That so?" he asked as she turned her head, her lips a hairsbreadth away.
"Mmmhmmm."
His hands came around her stomach as they kissed. Each one harder, deeper, needier than the one before. Carter brushed a hand under her breast while his other sought the skin of her stomach. She moaned in his mouth.
To his surprise and delight, she had gone braless. It was like she was leaving him breadcrumbs for him to follow.
"Emilie," he said following the ridge of her ear with his nose and then sucking her earlobe into his mouth. "Do you want to go inside?"
He nibbled on her ear and felt her shudder. Under her shirt, his hand traveled up to cup her breast and run a finger over her beaded nipple.
"God yes," she said, arching into his touch while grinding her ass into his stiff cock.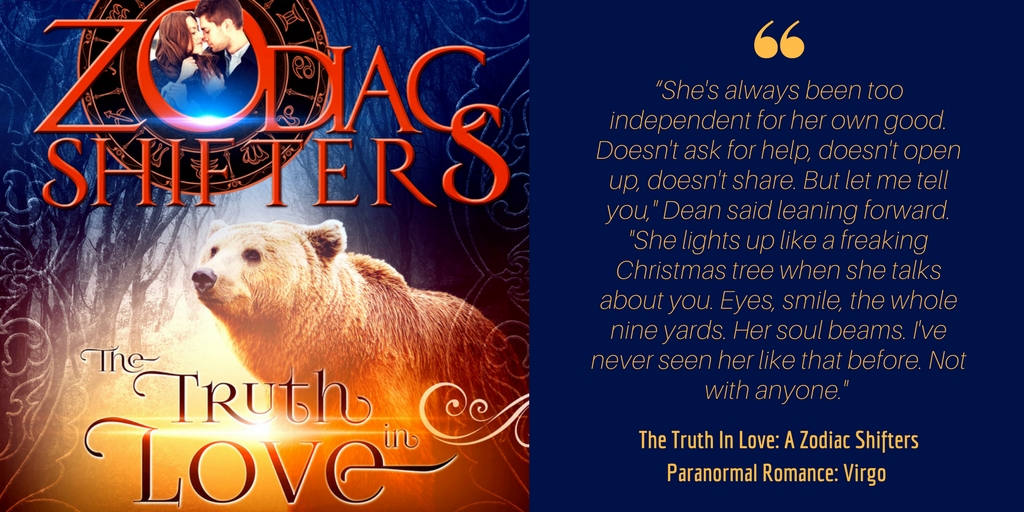 About the Author
K.C. Stewart is the USA Today Bestselling author of the Hailey Holloway series and most recently, the Adirondack Pack series. All her life she had fantasized and day-dreamed on a regular basis but it wasn't until she began writing short stories that she made those fantasies a reality. She has graduated to novels but still dabbles in the occasional flash fiction and short story. Because of her love for reading and the written word, K.C. is currently continuing her education at Clarion University for Library Science. When she isn't taking photographs, studying or writing, she is supporting a very real gummy bear habit. Currently, she lives with her boyfriend, german shepherds and cats in central Pennsylvania.
Keep up with all the latest Zodiac Shifters news here!