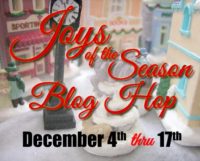 We are giving away prizes to two randomly selected winners: 1) an ebook bundle, including books in various genres by various authors participating in the hop (see the list of books at the bottom of this page); or 2) a $50 Amazon gift card. Please visit the main hop page here to see a list of books included in the bundle.
Enter now for your chance to win!
While decorating the Christmas tree is family fun, I love listening to Christmas Carols. Whether they are instrumental or sung, there is something special about each one. I miss hearing choirs or playing carols with the symphonic band. I tend to prefer hymns and classic versions of carols, generally those sung by Bing Crosby, The Carpenters, Gene Aubrey, or The Mormon Tabernacle Choir.
After I quite playing the flute in college, every December I would play a few carols for myself.  I used to play "The First Noel" over and over because I loved how it sounded.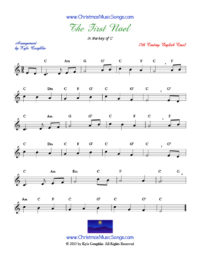 http://www.christmasmusicsongs.com/the-first-noel-sheet-music.html
For a few months after my oldest was born, I bowled in a league with my husband.  We took the little guy in his stroller with headphones to watch while we competed. Sometimes he'd get fussy and I'd walk around with him and sing Christmas Carols because I could remember the words. I sang "Silent Night" the most because it had a simple rhythm.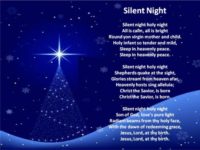 http://shattalyrics.blogspot.com/2012/11/bing-crosby-silent-night-lyrics.html
My all time favorite carol is "Do You Hear What I Hear?"  I first heard it in church but there are a few versions of it on the radio. I've become very particular with which version I listen too because sometimes artists skip a verse or change a few of the words. I also prefer to hear it sung by a deep, male voice – Bing Crosby and Andy Williams are two of my preferred performers.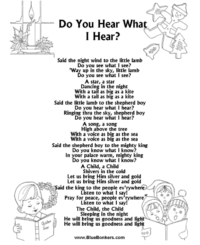 http://www.bluebonkers.com/song_sheets/christmas_lyrics/ChristmasLyrics7.htm
 Leave a comment with your favorite Christmas Carol for a chance to win a Christmas bookmark.
Don't forget to visit the other participants in the blog hop