Music.  YEAH! I love music. I wish I had the ability to create it but that isn't one of my skill sets.  I loved playing in symphonic band.  I use playlists – both songs and instrumental – to help set moods for my writing. This week's Listify Life was difficult only because there are so many great songs I listen to over and over again.  It was hard deciding which ones to include and set a limit on the number I mentioned.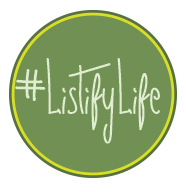 The Songs I Never Get Tired Of
Listen to Your Heart – Roxette
Blaze of Glory – Bon Jovi
Ordinary World – Duran Duran
Silent Lucidity – Queensryche
Circle in the Sand – Belinda Carlisle
Alone – Heart
Tempus Vernum – Enya
I picked most of these from the play count on iTunes. Even I was surprised by some of the numbers. Maybe I use the repeat song function a bit too much sometimes.