Zodiac Shifters
A collection of books with an astrological spin on love. From Aries to Virgo… discover all-new tales of paranormal romance and urban fantasy.
Zodiac Shifters features New York Times, USA Today, and other bestselling authors. Each month expect new releases based upon the twelve astrology signs.
Taurus – Loyal, Stubborn, Sensual
Warrior Wolf by Crystal Dawn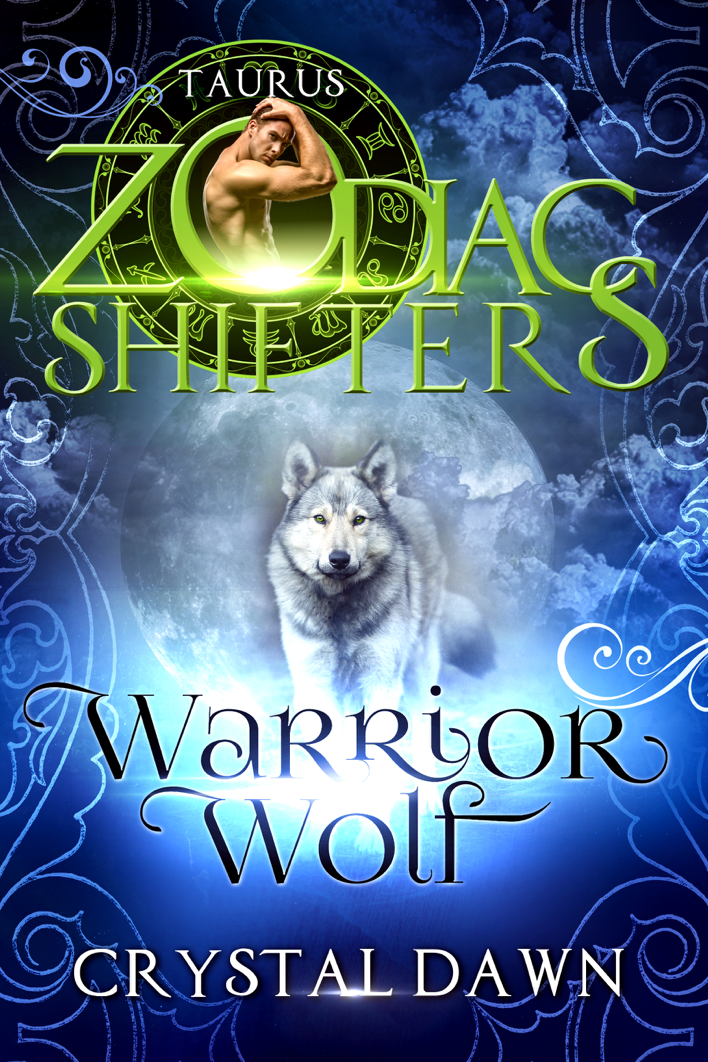 Grant is a werewolf warrior sent to fight in South America out of the large base they have there. He's itching to fight and he wants to mate Jaclyn the lovely witch who came there recently. She's lost here where her professional exterior doesn't fit in and she needs to get back to her wild witch roots.
Can these two different people manage to work together and find something special that's growing between them?
Release date: Apr 30th 2019

Excerpt – Spicy
"I'm fine now." She started to stand but fell back to the cot.
H"Apparently not. Gertie assigned another witch to me for tomorrow. She said you need to rest. Let me help you to your room."
It shouldn't upset her. After all Gertie was looking out for her. Yet another witch being with Grant did upset her. Why? Was it a good idea to look closely at her feelings? It was clear it was jealousy. She didn't want another witch or any female at his side for work or especially play.
There was even more to it than that. She could protect him. That she'd proven more than once. What if he was harmed because she wasn't there? What if he liked the other witch better than her? It would drive her crazy to lose him in any way. Inside her she felt extra energy roaming around waiting to be harnessed. All she had to do was get it before tomorrow and she'd be the one to go with Grant.
She held out her hand and he took it. A tingle ran through her starting where their hands touched. He pulled her up and held her upright lending her his strength. A few seconds later she felt stable. "Thank you."
"I'll keep a hold of you just to be sure." Grant stated.
It might not be a good idea, but she let him hold her as he led her out the door. She liked being held by Grant, probably too much. Maybe she just should throw caution to the wind? It was clear he wanted something from her, and it was more than just one night.
He got her to her room, and he followed her in. The look in his eyes told her he planned to seduce her, and she was going to allow it. When the door closed, she turned to him and Grant pulled her into his embrace. He was kissing her until she gave in. "I liked that." She whispered.
Need made him continued to kiss her mouth both taking and giving pleasure. He pulled back slightly, sliding his mouth down her neck. Her breath was going nuts as was her heart beat. "Do you want me now?" He asked. All she could do was nod.
He picked her up taking her to her bed. Standing her in front of him, he stripped his clothes off slowly. Goddess, the male was sexy as hell! Now he began to remove hers. He lifted her naked body and placed her on the bed, then he joined her there. The scent of her need nearly drove him mad with desire.
Leaning on an arm, Grant palmed one breast as his mouth sucked on the nipple of the other breast. She whimpered and it drove him wild. Goddess, she was a responsive female. He continued to suck and lightly nibble on her nipples until she asked for more. He did exactly that moving down further, so he could give her more.
The scent of needy female filled him as his tongue licked her from her gate to her clit. Her delightful flavor melted on his tongue then he found her opening impaling it. His tongue fucked her generously as his fingers circled her clit. He sensed her climax nearing. When she came, he wanted it to be on his cock. Moving up her body, he got into a good position with his cock poised at her entrance. He pushed in and she pushed back against him to speed things up.
That's when he felt the barrier that broke and her pain as she made a sharp sound. "You should have told me." He observed.
"Just keep going!" She demanded.
"You're so fucking tight!" He observed. Grant pushed in again and she made a strangling sound and she felt a rush of her honey covering his cock.
He pulled back then moved in again going forward slowly as perspiration covered his forehead. Grant seemed to be controlling himself using his will power because she was just pressing him so hard. Once he was fully inside again, he rested a second enjoying the pleasure of being inside his female. He started to slide in and out, speeding up faster and faster until he was slamming into her. Her channel squeezed him so hard he struggled to pull free. A tingle slid down his back, he refused to come before she did. She came with a scream of pure pleasure.
His wolf howled and he saw flashing lights behind his eye lids. Never had that happened to him before. His body jerked and bucked even though he was sure there was nothing left to shoot. Now that she'd finally given into his sexual needs, surely that would change their relationship. He'd never felt so wonderful or full of love in his life. Finally, he was at peace with his female and ready to take life on. Pulling her on top of his chest, she was asleep right away. He followed moments later.
About the Author
When she's not out hunting rogue vampires and werewolves, you can find Crystal Dawn out exploring the galaxy. She can do it all without ever leaving her computer. She kicks ass, takes names, and puts it all down for the enjoyment of her readers. At least that's what I think she told me. Writing came as a natural outlet for her overly creative mind. The start of her stories is the easy part. Finishing them is a little harder when all the stories are in there trying to get out. She loves reading, chocolate, fine sweet wine, and traveling among a large list of pursuits. Her favorite people, after her family and close friends, are her readers who she says are some of the most wonderful people in this galaxy and the next.
Connect with Crystal:
Keep up with all the latest Zodiac Shifters news here!