Zodiac Shifters
A collection of books with an astrological spin on love. From Aries to Virgo… discover all-new tales of paranormal romance and urban fantasy.
Zodiac Shifters features New York Times, USA Today, and other bestselling authors. Each month expect new releases based upon the twelve astrology signs.
Pisces – artist, dreamer, romantic
Unicorn's Unease by Crystal Dawn
Julio didn't know much about love, but his mate was challenging everything he wanted in life. That couldn't be right, could it? Maybe he was wrong about her being his mate, but he felt bad now that he'd gone back to the plains leaving her behind. No matter what he did it seemed to be wrong.
Janel had thought she'd found her one and only, but he'd left without a backwards look. She tried to date, but he was the only one on her mind. For now she would pour everything into her job and eventually things would settle.
Two stubborn Pisces who each think they are right. Will they give in or face a life alone?
Release date: Feb. 26th 2018

Excerpt – Spicy
"Looking for a bit of snuggle time?" Julio asked.
"Why not?" Julio began to kiss her and it lit a fire deep inside.
Her mate was a wonderful lover so how had she forgotten that? He was naked too which always made it easier to seduce him. Stroking his chest she pinched a nipple lightly and both of them hardened. She leaned down tonguing a nipple then sucked on it. Julio moaned.
"Now I get to do what I want." His hand cupped a breast as his tongue licked it then his mouth drew it in.
She felt liquid form in her channel as desire rolled over her. Her moan made Julio suck harder. "Goddess, that feels good."
"I'd do anything for you, my mate." He whispered in her ear before he nipped her earlobe. His tongue licked her ear and pressed inside it.
A shiver washed over her. She felt more heat in her lower belly. "I need you inside me." She demanded.
"It's my need to be there." Julio admitted as his fingers slid inside testing her readiness.
He must have found it acceptable because she felt the head of his cock press against her entrance. Wrapping her legs around his waist, she arched up against him forcing his cock in a little more. His weight pressed it in all the way forcing a groan of pleasure from her.
After a brief pause, he started to thrust in and out speeding up each time until he was slamming in. It seemed his need was as strong as hers and she held on for the ride. Her muscles pulsed massaging his cock making it even more pleasurable.
"Goddess." He yelled. "I'm about to come."
Seconds later she felt herself explode just before his hot seed hit her channel. She held him tight as his body jerked and bucked. "That was incredible." She admitted.
He rolled on his back and held his arms out for her. She slid into them feeling completely at home and safe for now. Sleep found them both, but they woke twice more during the night to enjoy each other's love. When she woke again, he was gone.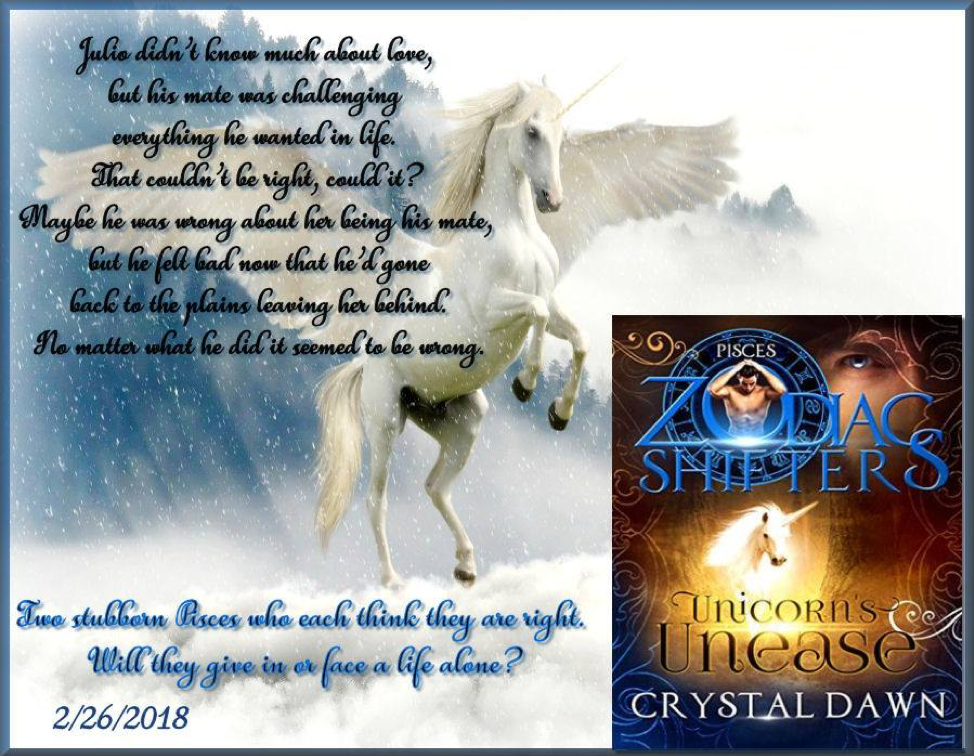 About the Author
When she's not out hunting rogue vampires and werewolves, you can find Crystal Dawn out exploring the galaxy. She can do it all without ever leaving her computer. She kicks ass, takes names, and puts it all down for the enjoyment of her readers. At least that's what I think she told me. Writing came as a natural outlet for her overly creative mind. The start of her stories is the easy part. Finishing them is a little harder when all the stories are in there trying to get out. She loves reading, chocolate, fine sweet wine, and traveling among a large list of pursuits. Her favorite people, after her family and close friends, are her readers who she says are some of the most wonderful people in this galaxy and the next.
Website     Amazon     Facebook     Twitter
Keep up with all the latest Zodiac Shifters news here!