Welcome to the Romance Your Autumn Nights
GRAND PRIZE – Kindle eReader + $25 Amazon gift card
1st PRIZE – $50 Amazon gift card (2 winners)
2nd PRIZE – $25 Amazon gift card (2 winners)
3rd PRIZE – $10 Amazon gift card (2 winners)
4th PRIZE – $5 Amazon gift card (2 winners)
5th Various swag items (5 winners – US only)
And please join our FaceBook Party for more chances to win!
 Fall is all around with the crisp, chilly air and brightly colored leaves. I find comfort in warm apple cider and fried apple pies. Best of all is spending the early nights reading a good book.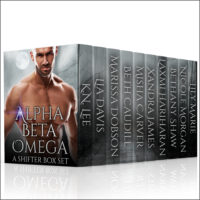 From today's hottest USA Today and Bestselling authors comes a collection of 10 novellas, featuring hot alpha, beta, and omega shifters. If you like tigers, bears, wolves, and more you'll love this box set. Each story is either a first in a series or a stand-alone novella.
A Tiger's Claim by Lia Davis
The Scarlett Legacy by K.N. Lee
Tiger Time by Marissa Dobson
Healer's Fate by Beth Caudill
Bearly Smitten (The Alpha's Bride Book 1) by Misha Carver
Reluctant Revenge – Under the Demon's Skin by Xandra James
Feral – A Many Lives Story by Laxmi Hariharan
The Beta's Mate by Bethany Shaw
Night Falls by Nicole Morgan
Wounds to Bear (Heart of The Bear Book One) by Lily Marie