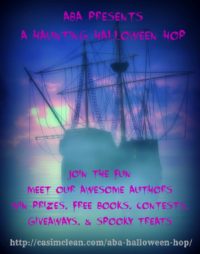 Click here to enter the ABA Halloween Hop giveaway on Rafflecopter!
My elven couple from Enchantress' Destiny, Claire and Rowe, meet in a bar over drinks. Enjoy a bloody and delicious drink this holiday season with the Winterberry Splash.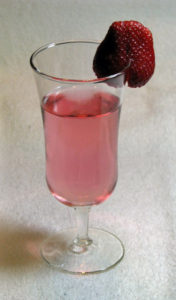 Winterberry Splash
2 oz Triple Sec
3 oz Cran Strawberry Juice
Shake with ice and strain into a cocktail glass. Garnish with a strawberry.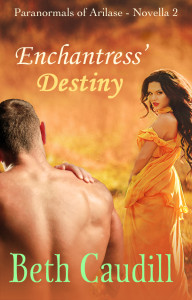 In a land ruled by magic, can two elves break a dark curse and forge a new destiny together?
Clairessa Bellehaven may be a princess, but she's also the loneliest elf in Wildeloch. She spends her days analyzing spell books, and her nights dreaming of someone to share her life. This seems unlikely, after her betrothed, Prince Rowe deserted her and her latest beau betrayed her trust. Surely just one night of passion with a handsome elf will do no harm … that is, unless the Goddess finds out.
Rowe Calder, elf clan prince, can no longer delay returning home if he is to save his family's livelihood. But once there, he finds himself under the spell of his lovely bondmate, Princess Clairessa—the woman destined to cause his death. He's a powerful elvish prince, surely he dares risk one tryst with her. 
But there is no hiding from the vindictive curse cast long ago. Rowe will have to fight for the safety of everyone he loves, including Clairessa. And Clairessa must use the most powerful spell of all to save her prince—love. Will it be enough when the dark elf comes to claim a soul?
Excerpt
Claire watched him walk to the bar. The view of his back, particularly his ass, was almost as enticing to stare at as the front. His long amber honey hair swished behind him and his scent, the tangy zip of orange, hung in the air like the fragrance from her orange-scented geranium. On his way back, blue, green and gold colored eyes held her gaze, and her insides quivered with nervous energy. He was a delicious sweet, mixed with the allure of a hunter's confidence, like the tree lynx in search of prey.
A moment of indecision gripped her. Dating an elf would be problematic with the betrothal contract hanging over her head. But he tempted every part of her and their liaison would be fleeting. For one night, she could revel in the touch of another elf and embrace the wildness he called within her.
He returned with a cone-shaped glass, filled with a white liquor colored with the faintest tinge of blush and placed it in front of her. She twirled the toothpick with a winterberry on the end and raised an eyebrow at him.
"I didn't order this."
"It's a club special." His eyes and smile dared her to turn him down. "I hear they're very popular with the female guests. Surely tonight is a time for experimentation?"
Accepting his lure, she drained half the concoction. Tartness exploded on her tongue and burned her throat, but she was never one to back away. Staring into his eyes, she licked her lips. "Delicious."
His quiet moan sent a distinctly feminine thrill through her. Knowing a man appreciated her attributes brightened her mood.
Group laughter and the stamp of many feet heralded the arrival of at least ten people. Quickly, the remaining tables filled and they could hardly hear each other above the din. Her spirits took a downturn with the numerous arrivals. She'd enjoyed the quiet privacy.
A loud clatter disrupted every conversation as a lion shifter shoved a satyr into a table and it splintered under his weight. The goat-man rose, stomped his hooves and laughed, oblivious to the unhappy stares directed his way.
"Perhaps you'd like to take this elsewhere?" Rowe whispered in her ear.
Buy Now:  Amazon | iBooks | Barnes and Noble | Kobo | All Romance eBooks
Special $0.99 Scareoween Sale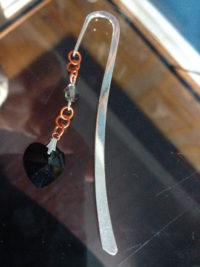 For a chance to win this Halloween themed bookmark, leave a comment on your favorite scary drink.
Don't forget to visit the other blogs in the Haunting Halloween Hop.