Only two more weeks left in the Spring Listify Life Challenge. Everyone liked it so much that we are continuing on with a summer edition.  Check out the details here.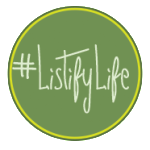 Movies I Always Quote From
The Princess Bride – Have Fun Storming the Castle
Marvel's Avengers – Puny God
Star Wars (movies) – Laugh It Up Fuzzball
While I've seen tons of movies over and over, I don't quote a whole lot of them. Maybe because I still have kids movies stuck in my head from having to see them hundreds of times. What movies or TV shows do you quote?