Paranormals of Arilase – Novella 2
*Previously published as Enchantress' Destiny
*Novella – 25,200 words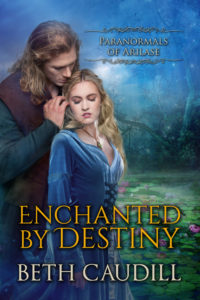 In a land ruled by magic, can two elves break a dark curse and forge a new destiny together?
She's a lonely elven princess whose betrothed shunned her to avoid a dark fate. But now, honor demands he return to save his family, even in the face of fatal temptation and the culmination of an arcane prophecy.
Clairessa Bellehaven may be a princess, but she's also the loneliest elf in Wildeloch. She spends her days analyzing spell books, and her nights dreaming of someone to share her life. This seems unlikely, after her betrothed, Prince Rowe deserted her and her latest beau betrayed her trust. Surely just one night of passion with a handsome elf will do no harm … that is, unless the Goddess finds out.
Rowe Calder, elf clan prince, can no longer delay returning home if he is to save his family's livelihood. But once there, he finds himself under the spell of his lovely bondmate, Princess Clairessa—the woman destined to cause his death. He's a powerful elvish prince, surely he dares risk one tryst with her.
But there is no hiding from the vindictive curse cast long ago. Rowe will have to fight for the safety of everyone he loves, including Clairessa. And Clairessa must use the most powerful spell of all to save her prince—love. Will it be enough when the dark elf comes to claim a soul?
Don't miss this magical tale of elven love in the legendary world of Arilase—get your copy of Enchanted by Destiny today!
Print Buy Links
Amazon | Barnes and Noble | Books-a-Million
eBook Buy Links
Amazon US | Amazon UK | Amazon DE | Amazon CA | Amazon AU
Barnes and Noble | Apple Books | Kobo | Google Play